For Some Reason, Earth Crisis Finds it Necessary to Release a New Album and Tour in 2010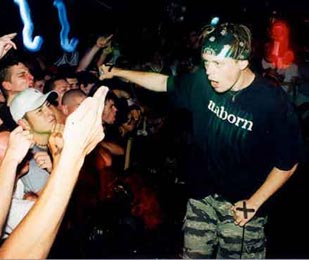 For those of you who like to get together with a group of like-minded individuals and then proceed to beat the living shit out of one another, I've got great news for you: Syracuse's own Earth Crisis is heading out on the road! Yes, that band of uber-virtuous troubadours who somehow managed to combine hippie ideals with right-wing dogma, teenage angst, jock fuck-head bullying, and a moral code for personal behavior that would make Walt Disney roll his frozen eyes, has suddenly decided that 2010 would be a great time for a new record and tour.
If you have a two-inch dick and are really in need of an outlet for your anger, head to their Myspace page for tour dates (and sweet, cryptic artwork from their new album To The Death). The rest of us — some of whom might even actually hold one or more of their supposed "convictions" close to our own hearts — will laugh at you, and try to resist the urge to egg you and squirt milk at you, even if we ourselves vehemently oppose factory farming and animal exploitation. That's just how fucking lame Earth Crisis is.