THIS MOMENT IN BLACK HISTORY – Public Square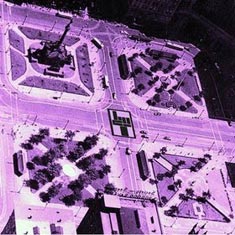 "Punk rock is dead!  Long live punk rock!"
I have been hearing some variation on that riff for the better part of 30 years.  Like most truisms, there occasionally has been some basis in fact.  The wild eclecticism of punk's "First Wave" gave way to New Wave's radio-friendly pablum.  The hardcore intervention of the 1980s reinvigorated the genre for a time, only to slide into a boring and relentless forced march towards some farcical ideological conformity that choked off creativity and innovation.  By 1991, the "Year that Punk Broke" — an absurd historical conceit if there ever was one — punk was primed for cooptation.  Suddenly, it was all about faux-hawks and eyeliner — it was all about fashion instead of passion.  And the music was reduced to a ready-made formula perfect for selling everything from zit cream to Cadillacs.
But, of course, my mini-history is a load of crap.  During that same 30-year period, in punk spaces all over the country, I've seen dozens, maybe hundreds of bands who embraced the spirit and attitude necessary to transform a handful of basic guitar-chords into something transcendent and powerful.  Punk rock is dead?  Hell no.  Punk rock lives.
Need proof?  Check out Cleveland punks This Moment in Black History's new Smog Veil Records release, Public Square.  Just what is it about decaying urban spaces that seems to necessitate great rock and roll?  This Moment in Black History offer a primer on some of the best punk sounds of the last two decades.  Songs like "Forest Whitaker" and "Theophylline Valentime" carry heavy references to early Black Flag and Dead Kennedys.  Then, suddenly, on "Pollen Count" the band offers up this crazy, fuzzed-out garage-psych ramble, complete with a wild '60s organ sound that could have come right off the first-volume of the Nuggets compilation.  The record whip-saws between face-melting hardcore and wicked garage and blues deconstructions with a mad dash of Cleveland art-punk thrown in for good measure.  Those familiar with Estrus Records stable-mates the Fatal Flying Guillotines and the Immortal Lee County Killers will know just what I'm talking about.  This is a really impressive piece of work.
It dawned on me, as I was listening to Public Square, that along with bands like Fucked Up, Pissed Jeans, and maybe lo-fi warriors, Times New Viking, we seem to have entered a new period of relevance for punk.  Or at least a brother can dream, can't he?  Of course, the political punks made good use of Dubya's reign of error but the aesthetic value of so many of those records left a lot to be desired.  No, this recent spate of great punk rock is notable for the levels of creativity and the genuine hybridity of the sounds.  None of these bands are locked into any one sonic template.  It is exciting and it harkens back to the days of my beloved First Wavers when punk was all attitude and experimentation.  The result was music that captured the zeitgeist but that also influenced — even shaped — the art of the period.  As Cleveland slowly sinks into Lake Erie, should we be surprised that a vital and angry voice should emerge from the ruins?  We've seen it a million times.  Luckily for us, This Moment in Black History is a voice worth listening to.
Punk rock lives!  Long live punk rock!
(Smog Veil Records, 1658 Milwaukee Avenue #284, Chicago, IL 60647)