BASIA BULAT – Heart of My Own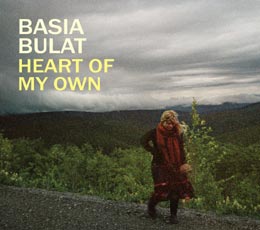 Basia Bulat's Heart of My Own, "folk music from the hills," is aptly titled as it is pure, untarnished, and from the heart. Bulat's soulful ballads of heartache and heartbreak filtered through a wailing, strong, classic female voice (dare I compare her to Joni Mitchell?) make this album one for the charts. The music itself — heavily rhythm-based, slightly primitive, and borderline baroque — sets an upbeat pace that mirrors the emotion that Bulat has obviously invested into the work. The bulk of the album was written during Bulat's short stay in the Yukon Territory, and the untamed wilds of the north have clearly inspired a completely unique and unmatched album.
Standing out from the pack of smooth songs are "If Only You," catchy from start to finish; the heavy rhythm of "Walk You Down," breathtakingly poppy but still pulls through for the folk crowd; and, surprisingly enough, the title track far from disappoints.
Following her first full-length album, Oh, My Darling, Bulat may be on the verge of public breakthrough, but not as a mainstream artist. Oh, no, Basia Bulat's sound is too good for the airwaves. It's the type of music that filters in and out of the background for decades, yet everyone who's anyone will be aware of its existence and its subtleties therein.
(Rough Trade Records, 66 Golborne Road, London, W10 5PS UK)