Malachai – Fading World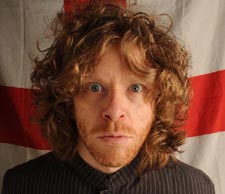 Malachai's origins are in Bristol, on the West Coast of England in Briston, and are indicative of the kind of artists that originate from Bristol: dubstep running through their bones, hip-hop in the fingers, '60s psychedelia in the heart. It's only right, then, that Portishead mastermind Geoff Barrow has a thumb in this project. Barrow's a kind of a mentor for Malachai and released the album on his own Invada imprint earlier this year.
"There's no Bristol 'scene' as such, but there's a lot of people making music here so heads know to produce something unique, " says Gee. "In this industry, you're supposed to choose your weapon and keep in your lane, but the last thing I want to do is repeat myself."
Malachai's Domino Records debut, Ugly Side of Love, is slated to be released on February 2, 2010. "Fading World," the 12th track on the forthcoming full-length, was written after watching a news report on Hurricane Katrina. "I suppose I was taken aback by just how much at the mercy of the elements we are, but mostly at the plums who run things and where their priorities lay, " says Gee.
Right click (option click for mac) to download!
[download id="67" format="1"]