Thao with The Get Down Stay Down – When We Swam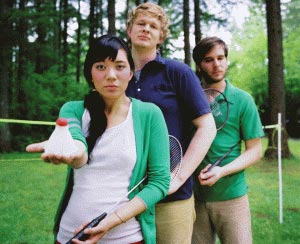 Thao and the ever-versatile Get Down Stay Down return with Know Better Learn Faster, the follow-up to their critically lauded and riotously applauded previous album, We Brave Bee Stings and All, the breakout success and best-selling record of 2008 for Kill Rock Stars. With super-producer and friend Tucker Martine (The Decemberists, Bill Frisell, Spoon) again at the helm, Know Better Learn Faster perfectly captures the band as their more mature, tastefully raucous, tastefully subdued and musically adventurous selves. Honed, trimmed, and tightened over the last year and a half of constant touring, the now-trio delivers Thao's cleverly crafted and emotionally evocative songs with vibrant, innovative instrumentation, incredible energy and a still-acutely-solid sense of what sounds good. The new batch of songs spans all genres and influences, all the while staying faithful to their distinct style, sharp wit, and the infectious and enamoring exuberance of their renowned live shows.
"When We Swam" is a cut from the new album, out now from Kill Rock Stars.
Right click (option click for mac) to download!
[download id="62" format="1"]