Cheap Eats: Spike's Junkyard Dogs in Allston, MA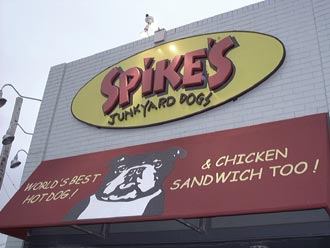 Originally published in Boston Heights issue #1
Spring is upon us. You seal up your jumpers in a cardboard box and cut your dungarees off at the knees. The street bustles with people who didn't seem to exist through the harsh Boston winter: young, attractive, and scantily clad. Where were they? You walk down Harvard Avenue and take a right on Brighton Avenue in Allston, thinking of your youth, of swimming pools, and of cookouts. God, you'd love a hot dog. But you're miles from your cousin's house, you don't have a grill, and you haven't even seen a swimming pool in years.
With $2.25 in your pocket, you can pick up a Mutt Dog at Spike's Junkyard Dogs: a plain dog on a hot soft French roll freshly baked on the premise all day. But if you really want to enjoy Spike's, you're going to want to venture outside the ketchup, outside the mustard and relish.
This isn't your uncle's cookout. Spike's offers multiple different variations of toppings and tasty adornments that might go against your palate's preconceived notions of what makes up a hot-dog, but rest assured, if you put your prejudice aside and put your faith in the culinary innovators at Spike's, you won't be let down.
Some of the fan favorites (that retail for $2.55) are the Buffalo Dog, which consists of buffalo wing sauce, bleu cheese, and scallions; the '57 T-Bird, with it's blend of honey mustard and melted Swiss cheese; and the Ball Park Dog, which joins melted cheddar with Spike's mustard and onions. The Buffalo Dog is my personal favorite: the perfect blend of hot and spicy Buffalo sauce and cool, refreshing sour cream, like an ice cube in your underpants on a summer day. Spike's does have excellent fat-free vegetarian dogs, but, unfortunately, some of their best dogs contain some elements of meat: the All American Dog, a steaming pile of baked beans with Spike's mustard and cheddar; the sweet and spicy Sauerkraut and Chili Dog; and, yes, the Texas Ranger, which consists of cheddar, bacon, and barbecue sauce (all of the above retail for $2.85). Then there is the marquee Junkyard Dog, an exercise in elaborate simplicity; it's Spike's mustard with tomatoes, pickles, scallions, and pepperoncini. Hell yeah.
Spike's isn't just all hot dogs and heaven though. There is pizza, subs, Buffalo wings, chicken tenders, and chicken sandwiches as well. The chicken sandwiches — or "bird dogs" — carry on the experimental tradition of Spike's hot dogs by mixing chicken patties with honey mustard, salsa, teriyaki sauce, and, yes, even pizza sauce. And if you're gluttonous enough to eat at least half a dozen dogs you get a picture of your face put up on the Spike's Hall of Fame.
You can stop by at most times, because Spike's is open pretty late: midnight during the weekdays and till one a.m. on the weekends. So leave the pub a little before last call and finish off the night right. You might as well. It's not like you're going to meet anyone and go home with them.
Spike's is located at 108 Brighton Avenue, Allston, MA 02134. Stop by and grab a dog to go now that the spring sun is finally shining down upon this college city's concrete. -Kevin Munley